Success through quality and sustainability
Success through quality and sustainability
With a broad range of high-quality milk products Milchwerke Mittelelbe – or Elb-Milch for short – has a remarkable tale of success to be told. The secret of this success for the German company from Stendal? First-class quality and active sustainability. KHS has been an active part of this for ten years now – and will soon be contributing two more linear aseptic fillers to the story.
Founded as a sugar factory in 1896, under the GDR regime the company specialized in dried milk products and baby food as VEB Dauermilchwerke Stendal. In 1991 the successful Krüger Group took the company over and turned Elb-Milch into one of Germany's leading producers of dried milk products and milk and mixed milk beverages. One of the company's mainstays quickly became the production of brand products for various discounters of renown.
"Our aim is to yield the best possible result for both man and the environment with the optimum use of resources." Uwe Bedau, managing director of Elb-Milch Elb-Milch has long attached great importance to acting sustainably with conviction and in 2012 was presented with the Contracting Award for the best energy-efficient project in Germany. The company draws its energy from its own combined heat and power plant which saves 19,000 metric tons of CO2 per annum. Elb-Milch also meets very high expectations when it comes to quality, efficiency and sustainability in production and filling.
This is why (among other things) Elb-Milch has been relying on efficient, resource-saving technology from KHS for about ten years. The Innosept Asbofill ABF 710 linear aseptic filler gives the dairy uncompromising aseptics, high availability and low consumption values. Thanks to its good experience Elb-Milch has now invested in two more identical aseptic fillers in the 710 series. The lines, both of which have seen previous service, are currently being overhauled, after which KHS will give the company active support during the commissioning process.
Investing in used machines underlines the great trust Elb- Milch has in the quality and holistic service provided by KHS. The company from Stendal will also benefit from the synergy effects for maintenance and spare parts generated by the use of two identical aseptic lines. In KHS Elb-Milch has thus found an ideal partner with whom it can achieve its major goals of quality and sustainability.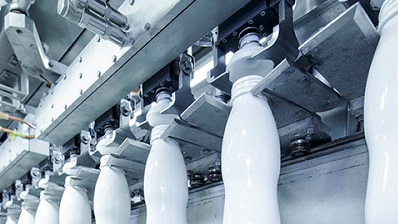 Milchwerke Mittelelbe GmbH (Elb-Milch)
1896 Founded as a sugar factory in Stendal, Germany
1949 Nationalized as VEB Dauermilchwerke Stendal; biggest producer of dried milk and baby food in the GDR
1991 Takeover by the Krüger Group
2010 Combined heat and power plant built to supply the dairy with a sustainable source of energy
2012 Presented with the Contracting Award for the best energy-efficient project in Germany
Sales: 100,000 metric tons per year
Products: dried milk products, milk and mixed milk beverages, often as generic brands for renowned discounters
Containers: cans, folded boxes, pouches, PET cups, PET bottles
Market: Germany; export to 40 countries
"This system in particular gives us the best protection for our sensitive milk products and packs them in top quality with the utmost efficiency."

Uwe Bedau, managing director of Elb-Milch