The development of a unique PET bottle
First PET bottle made from 100% recyclate for start-up share
"A joy shared is a joy doubled": this is the motto Berlin start-up share has made its own, developing a business concept where each single product helps people in need. For each bottle of water purchased, for instance, a day's ration of drinking water is funded in developing countries.
Together with the KHS experts from Bottles & ShapesTM share has now also made its packaging sustainable and developed the first PET bottle for the German market fabricated from 100% recyclate. The young company consciously chooses alternative materials to virgin PET and wishes to act as a model for other beverage producers. KHS has supported the project with state-of-the-art stretch blow molding technology and experience gleaned from over 4,000 developed container designs.
With its products and services KHS continuously strives to save more and more resources in container design and the production process. This ambition has now played a major part in an innovative market development: the first PET bottle developed in Germany to consist entirely of recycled material. Driven by the desire to try and change things for the better, Berlin start-up share has initiated a large-scale cooperation with supermarket chain REWE and drugstore dm, bottler Mineralbrunnen Allgäuer Alpenwasser, preform manufacturer and the world's biggest converter Plastipack and experienced PET specialist KHS. The latter's successful Bottles & ShapesTM consultancy program has already yielded over 4,000 container designs. KHS' wealth of experience ultimately convinced share to enter into partnership with the Dortmund systems supplier.
The recyclate PET bottle is a totally new development, into which much thought has gone: start-up share's concept dictates that for each product purchased a further product be donated to people in need. Furthermore, with the sale of the new bottle in 2019 share aims to save over 200 metric tons of plastic waste. It aims to do so by only processing recycled PET or [r]PET to produce new, high-quality bottles. In the development of the container design, thanks to its many years of experience with Bottles & Shapes™ KHS was a valuable partner who very quickly and efficiently realized share's ideas. The sole use of recyclate did not prove to be much of a challenge – on the contrary: as the material is dark in color, the preforms are easier to heat and thus even simpler to make than PET bottles with virgin material. KHS was not only the right company to talk to when it came to the bottle design but also as regards production; share's water is bottled at the Allgäuer Alpenwasser mineral water bottling plant in Oberstaufen where KHS technology is in operation. The bottles are formed on an InnoPET Blomax stretch blow molder without this having to be specially adapted for the manufacture of pure recyclate bottles.

share has already achieved several important goals: by introducing its products on a large scale it has encouraged a change in consumption awareness among shoppers, already made several million concrete donations of aid – and through the market launch of the fully recycled bottle also heightened awareness among other beverage producers regarding the issue of sustainable packaging. A number of bottlers have since approached KHS who also want to increase the percentage of recycled material they use. The technical opportunities are there – and ready for use without the need for any adaptation.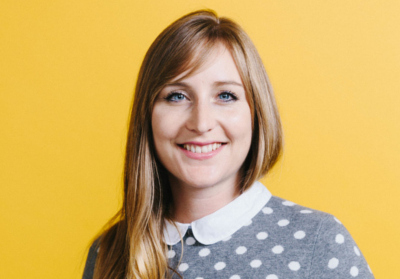 » Finalizing the technology and obtaining certification are both lengthy processes. Your partners are thus crucial. "KHS developed the bottle very quickly for us which was enormously helpful. «
» Finalizing the technology and obtaining certification are both lengthy processes. Your partners are thus crucial. "KHS developed the bottle very quickly for us which was enormously helpful. «
Iris Braun, head of Product and Social Projects, share
"The protection of the environment also plays an important role at KHS. We support this by providing resource-saving plant engineering and also by developing containers made of alternatives to virgin PET or which are especially light."

Marc Eysel, Northern Europe Sales Region, KHS Group