Innoline GTR pack conveyor
Innoline GTR pack conveyor
Sophisticated logistics for non-returnable and returnable packaging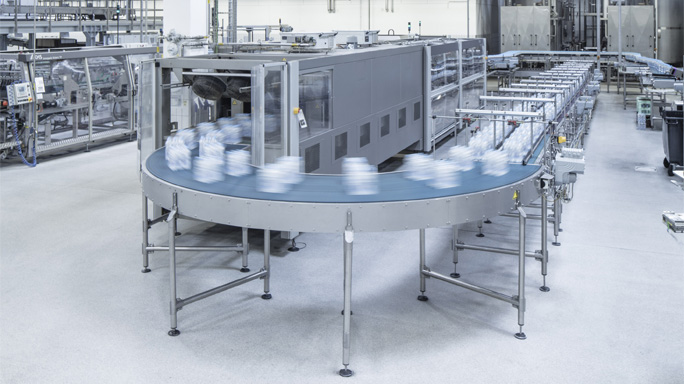 Good to know
Processes which are matched to one another like clockwork are the be-all and end-all of beverage filling. Transportation and conveying equipment plays a particularly important role here - after all, it is responsible for making a functioning, perfectly matched system from a collection of individual machines. The Innoline GTR pack conveyor actively helps in transporting products and placing them in magazines with pinpoint accuracy. As well as non-returnable and returnable packaging such as plastic crates and returnable plastic displays, you can also convey cartons, trays and foil packs reliably to their destination. In addition, the decentralized control components ensure that you can control and regulate every single conveyor segment separately. As a result, the frequency-controlled drives adapt themselves perfectly to the particular operating state of your machine, thus enabling soft deceleration and jerk-free conveying which is gentle on the packaging.
Well thought out
The integrated speed control ensures minimum product wear while at the same time providing optimum machine performance. As well as the individual adaptation options afforded by its modular system, the Innoline GTR simultaneously forms the basis of a safe and controlled throughput of your product streams. In addition, special attention has been paid in the design to its hygienic advantages. All segments of the conveyor system are made from stainless steel or other non-rusting material, which results in particularly long life and hygienic advantages. In addition, the automatic railing adjustment ensures short changeover times and therefore high system efficiency.
Convincing
Consistent modular design ensures high flexibility
Standardized modular system with different hygiene designs
Product stream tracking system for high efficiency and availability
Sustainable
Benefit from low energy consumption thanks to variable centralized or decentralized drive concepts with high-efficiency drives
Treat materials gently, without contact and with low noise thanks to the chain mat turner with differential speed
Ensure consistent and practically maintenance-free operation with line distribution systems with cog belts
Consumables
KHS MULTI GREASE 01
KHS MULTI GREASE 01 is an high performance extreme pressure lubricant. It is suitable for centralised lubrication systems.
Material numbers: 301142150102, 301142150106, 301142150108
KHS GEAR FLUID 220
KHS Gear Fluid 220 is a fully synthetic high performance gear oil with EP properties.
Material numbers: 301142110507
KHS GEAR FLUID 460
KHS Gear Fluid 460 is a fully synthetic high performance gear oil with EP properties which have been specially developed for use in machinery used in the food and beverage processing and packaging industry.
Material numbers: 301142110207, 301142110209